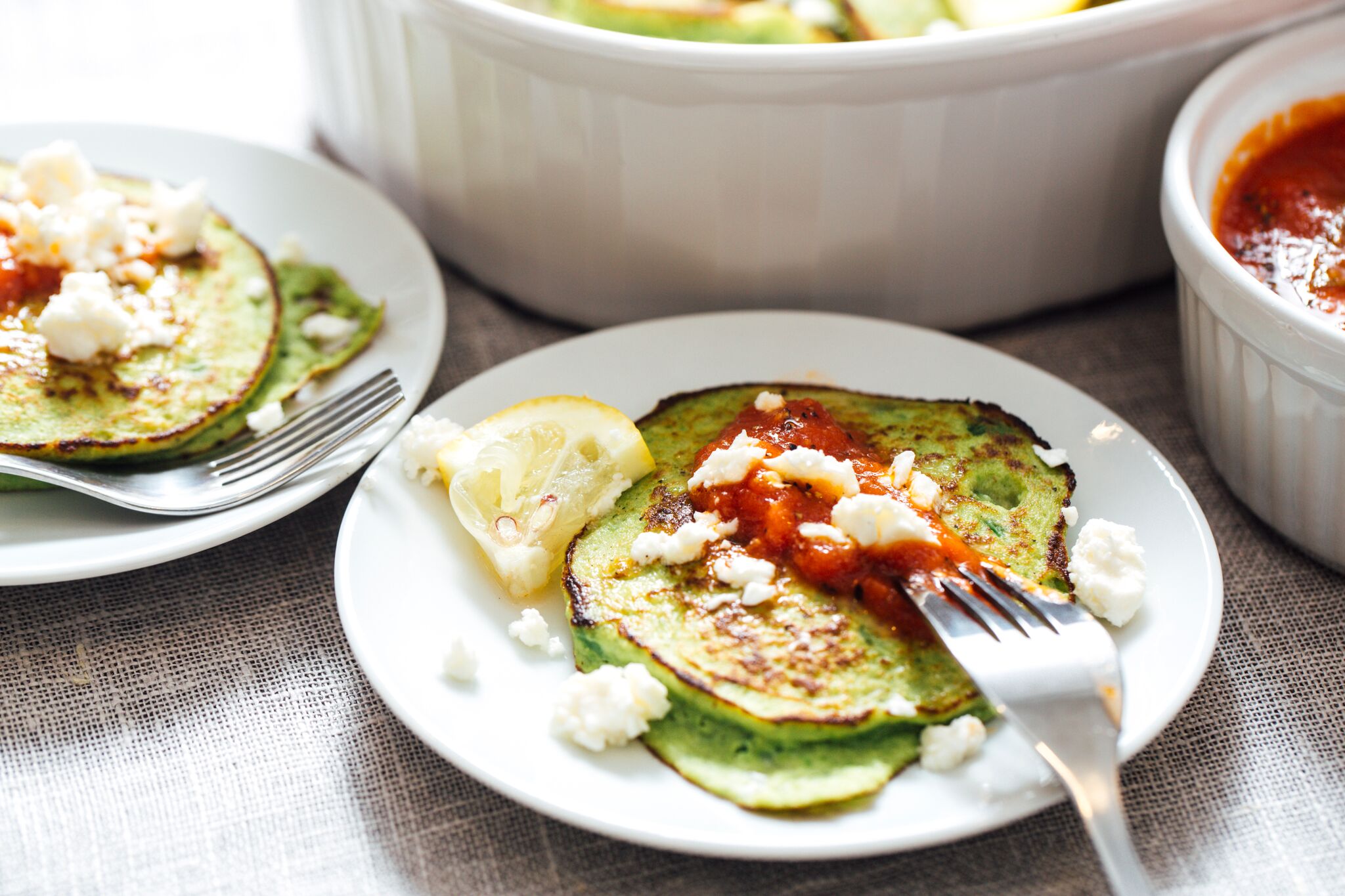 The fastest way to get your veggies for the day? Put 'em in the pancakes! This is such a fun weekend recipe and nobody will judge if you cover them in syrup to get your kids to woof 'em down. Ingredients
PANCAKES
280 g frozen peas, blanched
1 red onion, roughly chopped
Juice and finely grated zest of 1 lime
3 tablespoons coconut flour
1 tablespoon coconut oil, plus extra for frying
5 eggs, beaten
sea salt, to taste
freshly ground black pepper, to taste
TO SERVE
100g feta cheese (optional)
Small handful of coriander and basil leaves
1 tablespoon finely chopped dill lemon wedges
125 ml smoky tomato sauce
SMOKY TOMATO SAUCE
1 teaspoon coconut oil 1 red onion, finely diced
400 g tomatoes, blanched, seeds removed, and diced, or 1 x 400g tin of organic chopped tomatoes
1 teaspoon smoked paprika sea salt
freshly ground black pepper
Directions
PANCAKES
1. Warm the oven to 150°C/300°F/Gas Mark 2. Place 250g of the peas and the rest of the pancake ingredients in a food processor and blitz to create a pea batter. Transfer to a bowl, then stir through the remaining peas.
2. Warm a large frying pan on a medium-low heat and melt 1/2 a teaspoon of coconut oil at a time to cook the pancakes. We like to make small pancakes, which generally hold together best.
3. To make these, drop 1 heaped tablespoon of the pea batter into the pan and press down lightly so the pancakes remain 1-1.5cm thick.
4. Cook the pancakes for 3-4 minutes on each side, or until golden, being careful not to flip them too soon on the first side as they may fall apart.
5. Once cooked, place on a platter, cover with foil and keep them warm in the oven while you cook the rest. Pack these up a little container to carry to the beach and keep the sauce separate.
6. Once you're there, simply sprinkle with feta (if using), herbs and a squeeze of lemon, then serve with some smoky tomato sauce and eat.
SMOKY TOMATO SAUCE
1. In a small saucepan, melt the coconut oil over a low heat then add the onion and saute for approximately 4 minutes. Add the tomatoes, smoked paprika and a good pinch of salt and pepper and simmer for 10 minutes, or until the sauce is slightly reduced.
2. Remove from the heat and allow to cool for a few minutes, then transfer to a food processor and blitz to create a smooth sauce.
3. This can be served cold or warmed up a little. Store in the fridge for up to 1 week.