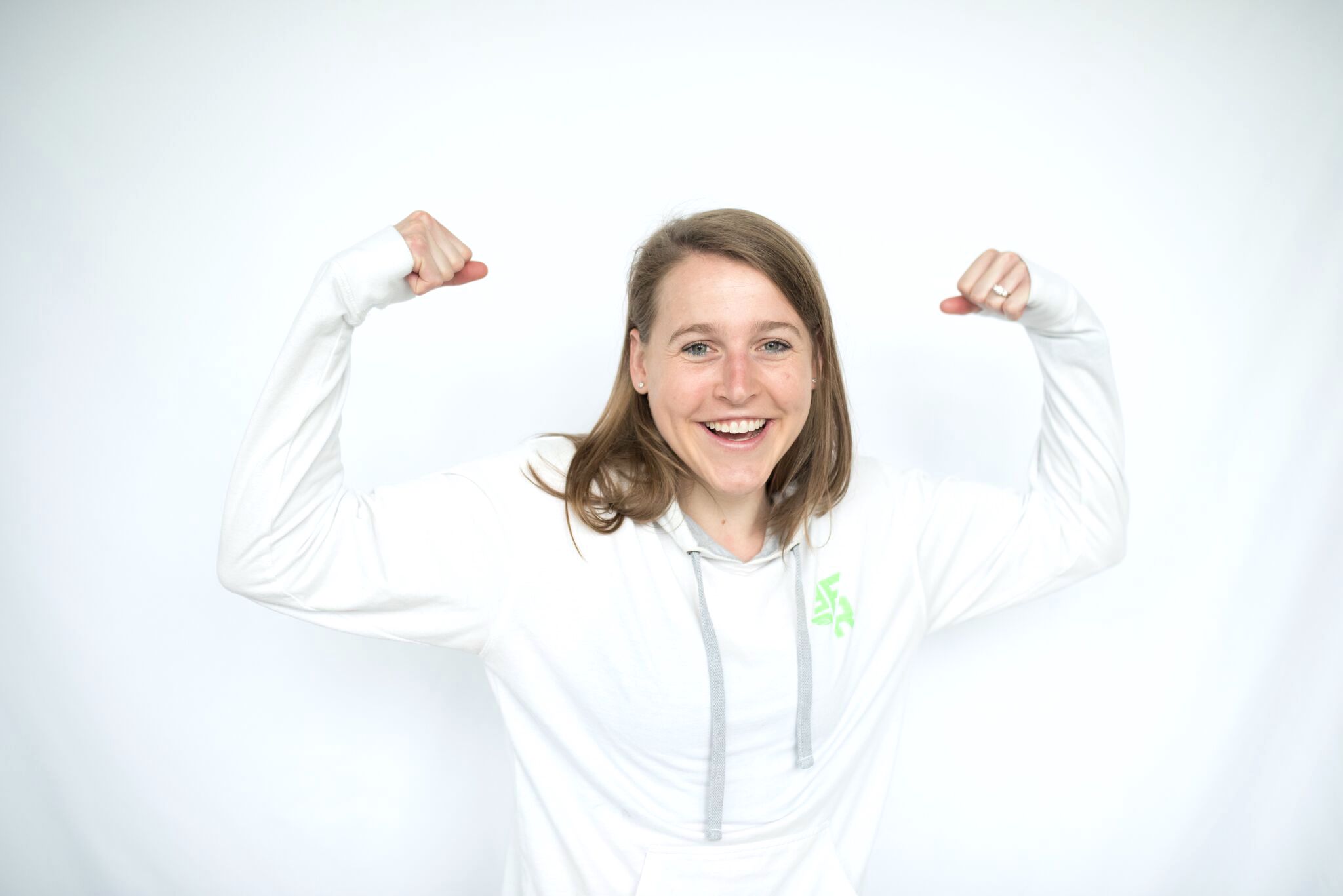 Our one and only Coach Clare. While her sport of choice is in a pool, she's a gazelle on the tread. Holding lightning fast speeds for what seems like ... ever. A former competitive collegiate endurance swimmer, we're lucky to bring her competitive edge and drive to be better to the TreadMighty crew. And if you know her, she's one of the nicest you'll meet. Let's get to know this ROCK STAR!!
You have to pick 3 meals to eat everyday for a full year. What would breakfast be? Lunch? Dinner?
Oooh I'm such a creature of habit, this is so my jam!
Breakfast: Poached eggs with bacon, avocado and a toasted, buttery english muffin from Model Bakery in Napa. I know this is v specific, BUT Oprah knows her stuff (and so does Justin for this recommendation!)
Lunch: OK this sounds so boring, but I've had this lunch on repeat, and if it ain't broke, don't fix it! Big green salad with a homemade salmon burger (dijon mustard, paprika, Wild Planet canned salmon and egg whites), sauteed peppers, onions and mushrooms, olives, avocado and either Tessemae's Balsamic or Primal Kitchen Ranch
Dinner: I'll go with a three course menu (lol): (1) deep fried cheese curds… (2) grilled chicken thighs with either grilled corn on the cob or roasted sweet potatoes (3) FroYo with a high ratio of toppings to froyo
You grace the Midwest with your East coast drawl. Where did you grow up? What brought you to Minneapolis?!
I grew up in a small town about 45 minutes outside of Boston. Believe it or not, my town had ~4,000 people, one stop light and lots of farmland. I came to Minneapolis two years after graduating college for a job at General Mills in Mergers & Acquisitions. I was intent on finding a role in M&A at a big CPG company, and I was willing to move anywhere for the right position. When I got the job at General Mills, I had only visited Minnesota twice - once for a Nationals swim meet in high school at the U and once for my interview. I recently finished up at General Mills and have officially started the two year full-time MBA program at Carlson!
You can run at blazing speeds for a v long time. What is your favorite effort on the tread?
Ha, I don't know about that, but thank you! If you asked me a year ago, I would say 6 minutes plus. I would just set it (the tread) and forget it! Now, I love either 3 minute or 45 second efforts. So random, but it's all mental!
If you could move somewhere for 2 years, all expenses paid, but after those two years could never go back to the place again in your lifetime. Where would you go? Why?
Oh this is hard! This is probably cheating but since you said "somewhere" I'm going to take the liberty to include a few countries within the definition. I would have to go to several countries in Africa for the two years. On that list would be Egypt to see the pyramids and the Nile, Morocco for Marrakech and camels, Kenya to go on an incredible wildlife safari, Tanzania to climb Mount Kilimanjaro and Rwanda to hike with gorillas. It would be amazing to not only have these tourist experiences but also to become completely immersed in the cultures of these countries and really appreciate how people live in these parts of the world.
You recently bought a house with your hubby. What has been your biggest challenge as new homeowners?
Omg, the lawn has to be mowed every single week! I had no idea! Lawn mowing is one of my tasks, but I've fully embraced it. I turn on a podcast and my garmin watch (yes it's a workout in my book!) and try to avoid mowing over all the frogs… On the flip side, homeownership has been eye-opening because Charlie is legitimately the handiest human I've ever met. He can put anything together and fix anything no matter how complicated or how many tools are required. Which I guess leads to another challenge: not spending all our money at Home Depot / Lowe's on tools :)
Running hasn't always been your endurance sport of choice. We hear you basically have a set of gills. What was your best event when you were a competitive swimmer?
I wish I had a set of gills - that would have made swimming a whole lot easier! I swam Breaststroke and Individual Medley, mostly mid to long distance. Endurance was my jam, definitely not sprinting!
While you have been a regular with the 5:30am crew, you can't help but get sucked into a few Netflix classics. What is your favorite series of all time? What are you currently binging?
Charlie loves crime shows, and while I've come to love them too, if I watch them late at night I have nightmares and I can't sleep...Because of that, we are always binging one crime show and one light-hearted show. Currently we're watching the Sinner (season 2 just started up) and The Office (I know I'm so behind the times!) Some of my other favorites series (a) serious: Broadchurch, Ozark, Longmire (it's like Law & Order in the wild west) and (b) not serious: Friends, How I Met Your Mother and Gossip Girl.
It is your mission to help people chase down their goals everyday. What/who inspires you?
First and foremost, my mom! She has instilled in me the value of hard work, and that with hard work, I can do anything I set my mind to. She taught me to be unafraid of failure because it is only temporary. How many times have I heard: "What's the worst that could happen?" Not only is she one of my biggest supporters and best friends, but she is an incredible role model and total boss (she's CFO of a public company)!
Second of all, the flyers! I cannot tell you how fun it is to be on the other side coaching all the incredible flyers that walk into the studio everyday. There is nothing more exhilarating and inspiring than watching flyers who when they are already pushing themselves to their limit, put their trust in me to increase their speed. It's so fun to watch Flyers surprise themselves with how fast they can run and heavy they can lift AND do it while supporting others like their teammates! Last Saturday, I got chills (seriously I'm such a cheese ball) watching the class rally around each other, clapping and cheering as they finished up the last few efforts in dynamic mode. There's nothing better than organic team camaraderie!
You're on the next space trip to the moon and you have to pick 3 FFR staff members to go with you, who would they be? Why?
This is really tough, but I'm going to take an analytical approach here. I imagine the space trip to the moon as long and potentially quite boring. For the entertainment factor, I'd bring Low Dock. She is so fun to be around and her personality is infectious! I can envision some epic space dance parties with her around. To keep up a positive attitude when we've been up in space for such a long time, I'd choose Amy. She ALWAYS knows exactly what to say to get me through a tough workout and the same would be true for getting us through this mentally draining space trip. Plus maybe she'd have some killer space workouts for us to do :) Last but not least I'd have to pick Lauren to round out this space trip girl gang. Here on earth, Lauren is a whiz in the kitchen and whips up the most creative, delectable meals and snacks. Instead of relying on freeze dried astronaut food, we'd have chef LK for delicious eats every day!