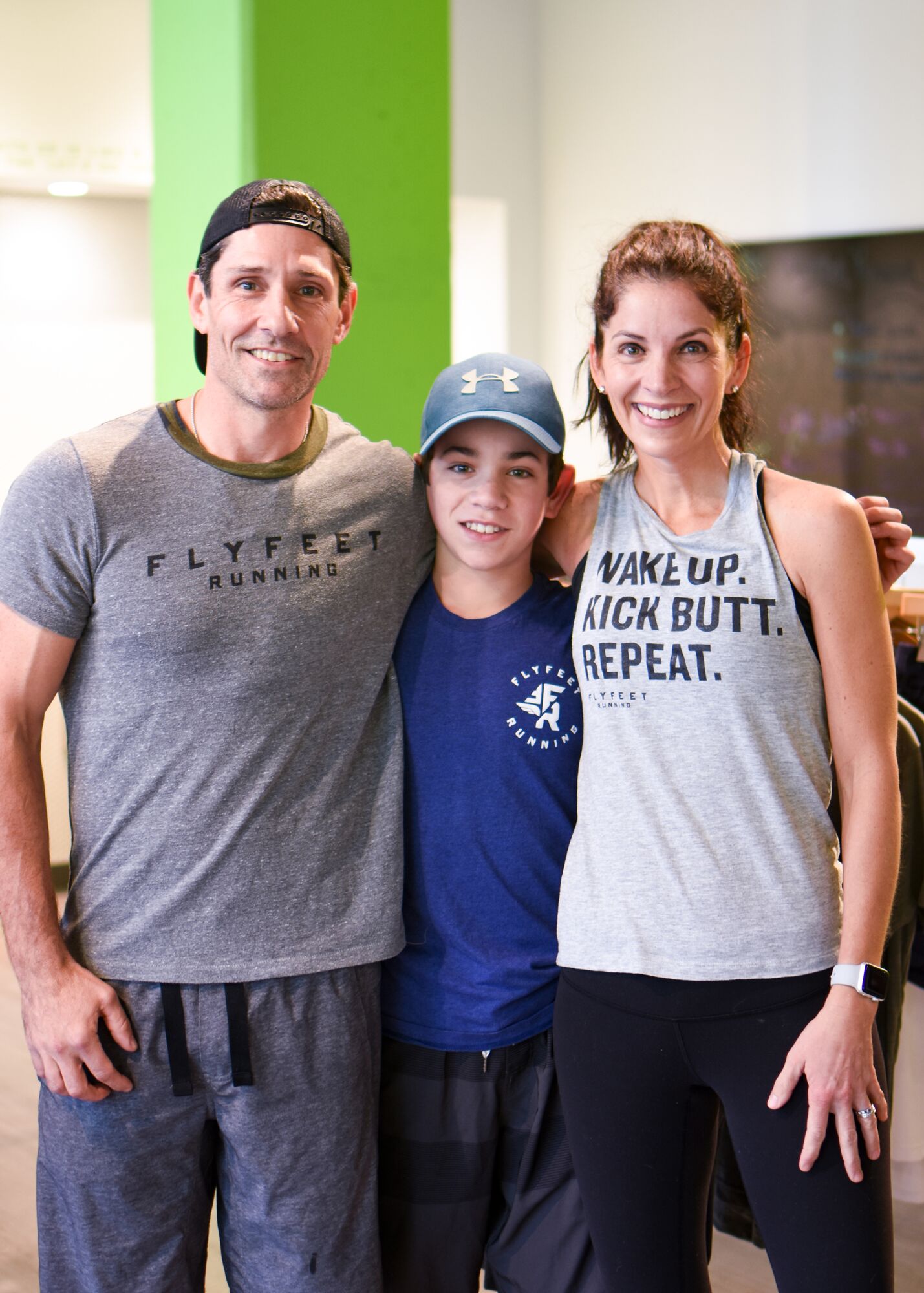 Meet Katie, Tim and Jack. All frequent fliers and goal crushers, this crew is one of our favorites!!
We are suckers for romance so please please share the story of how Katie and Tim met. Who made the first move?
Tim and I met in medical school and started dating after our second year. Nothing says romance like drawing blood from each other. I knew Tim loved me when I left him completely black and blue and he didn't flinch. In terms of who made the first move, Tim did. But it was no accident. I know how to put myself in the right place!
You two get workouts in together pretty often so now who makes the first move when it comes to workout dates?
Katie is now in charge of dates at Fly Feet. Tim knows that if he wants to see me he needs to come to class at 9/930 - not 5:30 am!
Tim just had a b-day and we were lucky enough to celebrate all together at Fly Feet! If each of you could've invited a celebrity guest to class who would it be?
Katie: I would like to bring Serena Williams to class. I played tennis in high school and college so I have to pick someone from the tour. I still can't decide if I love her or can't stand her but I would kill to see her crush it at ff. Plus, I'd want to watch her harass Ashley hunter and beat her at her own game!
Tim: Tim is anti-celebrity (polar opposite of his wife). He has decided not to invite any celebrities. He does love to blurt and get friends to come. Not many are chomping at the bit hearing about how he approaches the workouts!
You are a stellar family of four. If you could freeze time what memory as a family would you stop time for?
We both thought of the same vacation with this question. A couple of years ago we took the kids up north and rented a cabin close to lake itaska. We were the only cabin and only people on two hundred acres. No cell phone service. No distractions. We had so much fun hiking, biking, playing games and just hanging out. It's hard to create space like that in our busy lives. That would be a beautiful time to freeze.
If your family could only have cook one meal for the rest of time what would it be?
This question gets to the heart of why it is difficult to be the mom and head chef in our house. Nobody wants the same thing! I would eat tacos all day long. Tim wants my "cheeseburger paradise". Jack votes for king ranch casserole and Caroline is split between my chili and skillet lasagne. We did, however, all agree we could just live off of my homemade ice cream if it came down to it.
Your schedule has magically cleared. No sports, activities, or work. Where do you take the family on vacation?
Well....Caroline and I would love to go to Hawaii. Jack wants to go to a notre dame football game. And Tim, I'm not even kidding, wants to just stay home. Refer to question five regarding the difficulty in being the mom/ceo of the family!
How many cities have you lived in together?
We met in Atlanta and lived there for the first six years of our marriage. We moved to Minnesota in 2007 and lived in Edina for eight years and now live in Orono on lake Minnetonka. Tim will never leave the lake (hence the reason he doesn't really want to leave for vacation) and I will never leave Tim so looks like it's eternal lake life for me too!
Who is the master of the following - Katie or Tim?
Again, we had everyone pipe in for these questions much to my dismay:
Dancing? Katie. Tim needs several cocktails to even move towards a dance floor. Our kids say neither!

Singing? Has Tim shown any of you the picture of me belting into our karaoke machine in my bathrobe? No? Good. Then we can stay married. I'm not good but I don't think I've ever even heard Tim sing.

Driving the carpool? Katie. Although since our son started at private school Tim has definitely stepped up!

Cooking? They all say mom although shoutout to Tim's mean skills on the grill

Burpees? Machine of a husband. Definitely Tim.

Running? Ditto. That man can book.

Reading? Katie. I read non-stop. I'll go through 60+ leisure books a year (plus work stuff). Tim reads two pages and falls asleep!