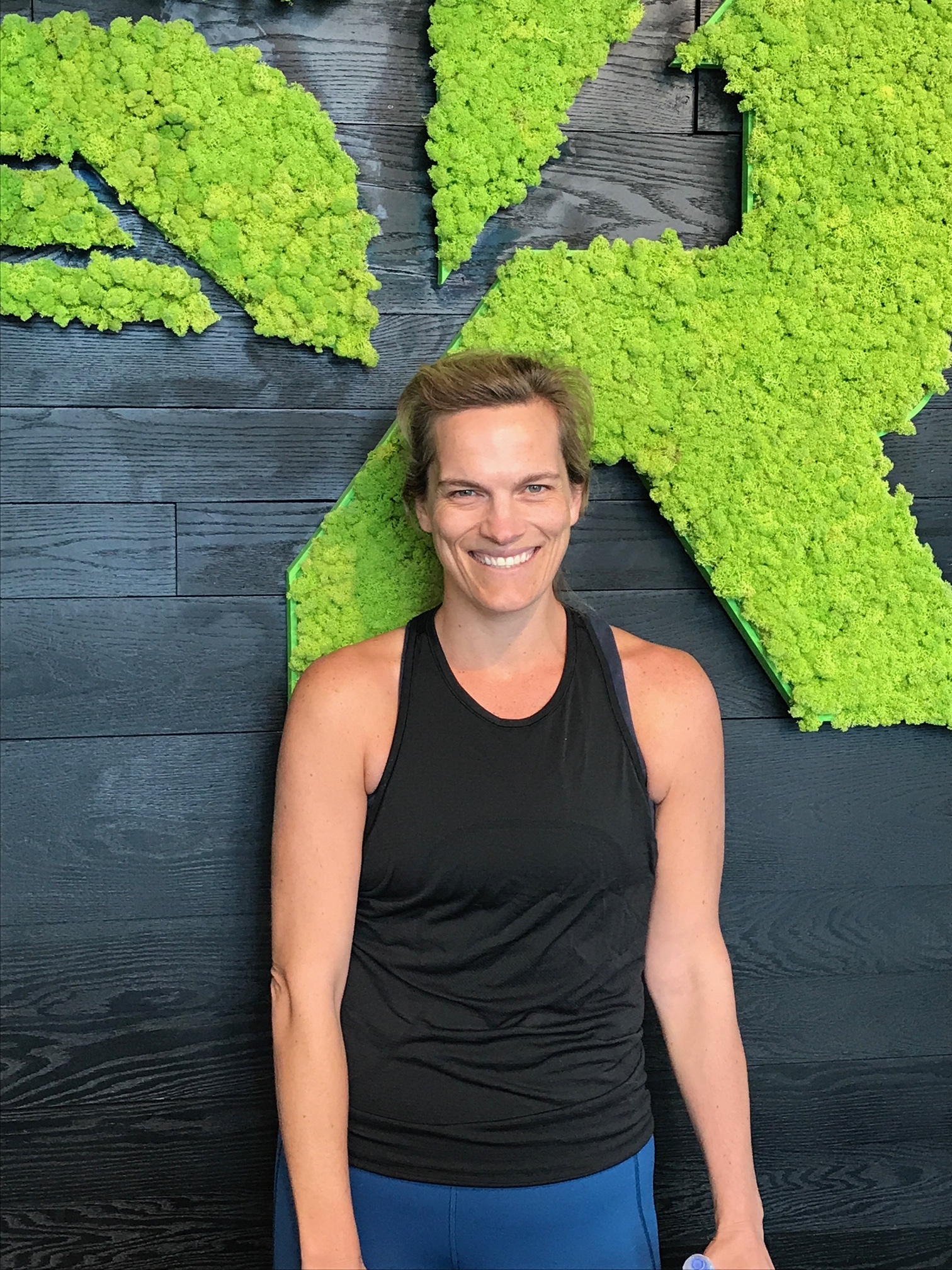 It's 5:15 am and Flyers are starting to roll in one-by-one. Some are wide awake, and some are just "awake." Natalie Williams strolls through the door, smile on her face. "How's it going?" I ask her. "Great!" she says. "5:30 class is my favorite because if I exercise in the morning, my brain doesn't realize what I am doing until I am already back home!" That right there is the truest statement I have ever heard.
I met Natalie the very first day Flyzata opened. Amongst the sea of new, excited and anxious faces, her's was one that stood out to me. I greeted her on the treadmill, asked her how she was feeling and she turned to me with the biggest smile. She was ready to do this! I watched her through the workout, every round coming off the treadmill hands on knees, chest pounding, with that look in her eye that she could not wait for the next round.
I am still greeted with that same smile and still see that look in her eye as if to say "bring it on." She's a fierce competitor in the studio, striving to become faster and stronger. Natalie has been very active from a young age. She played soccer, volleyball and swam in high school. Although she may not have been a D1 athlete in college, she sure trains like one! Let's get to know her!
Who is Natalie?
I am a Real Estate agent with Fazendin Realtors in Wayzata. I'm a mom of three and a wife. Everyday quickly runs into the next with three little kids, a job, etc. so it is important to take time for myself and exercise. Sports have always played an important role growing up; I was a casual athlete. I was good, but never close to great. At 5'12" tall, people seem to think I was a Division 1 athlete. Ha, no.
After my daughter was born, I needed to find an activity that was efficient. I didn't have the luxury of time. Running saved me. It became my social and physical outlet. I found an amazing group of running friends; we hold each other accountable, push each other and talk A LOT. It is an incredible gift to spend an hour of my day with these ladies.
What brought you in to FlyFeet?
My Real Estate Brokerage was hosting a training across the street from the Wayzata location days before it's grand opening. My close friend and I took a break and walked over to investigate. We met Ben, his warmth and enthusiasm was contagious. Both of us were there on the day it opened and have loved every class since. I was so excited about FlyFeet that my husband gifted me a membership for xmas...and also gifted himself a membership for xmas.
I always like to ask people, how did your first class go?
Ha. I think I blacked out. I remember feeling like I got hit by a wrecking ball...and anxiously waiting to get hit again!
What are your goals at FlyFeet and how have they changed since your first class?
I am always trying to push my fitness level, but it is so easy for me to get complacent. I am the 10-minute mile lifer. I am ready to break some new ground and find out what I really capable of doing.
The 21 day challenge was a game changer for me. I learned so much about what my body needs and about what food is my kryptonite. I challenged my routine and my creature comforts. It was tough, but my workouts were more intense, I had laser focus at home/work and I slept like a rock.
Oh, and I want to do just one real pull up!
You are stranded on an island. What are three things you have with you?
My family, Golden retriever puppies, and most importantly instructions on how to make fire
If you had a walk up song for every time you stepped up to the treadmill what would it be?
Anything Snoop Dog and LOUD!
Natalie was the winner of Flyzata's 21 Day Challenge and we want to give her another shout out and a huge congrats!!
All Hail the Treadmighty!
Megan