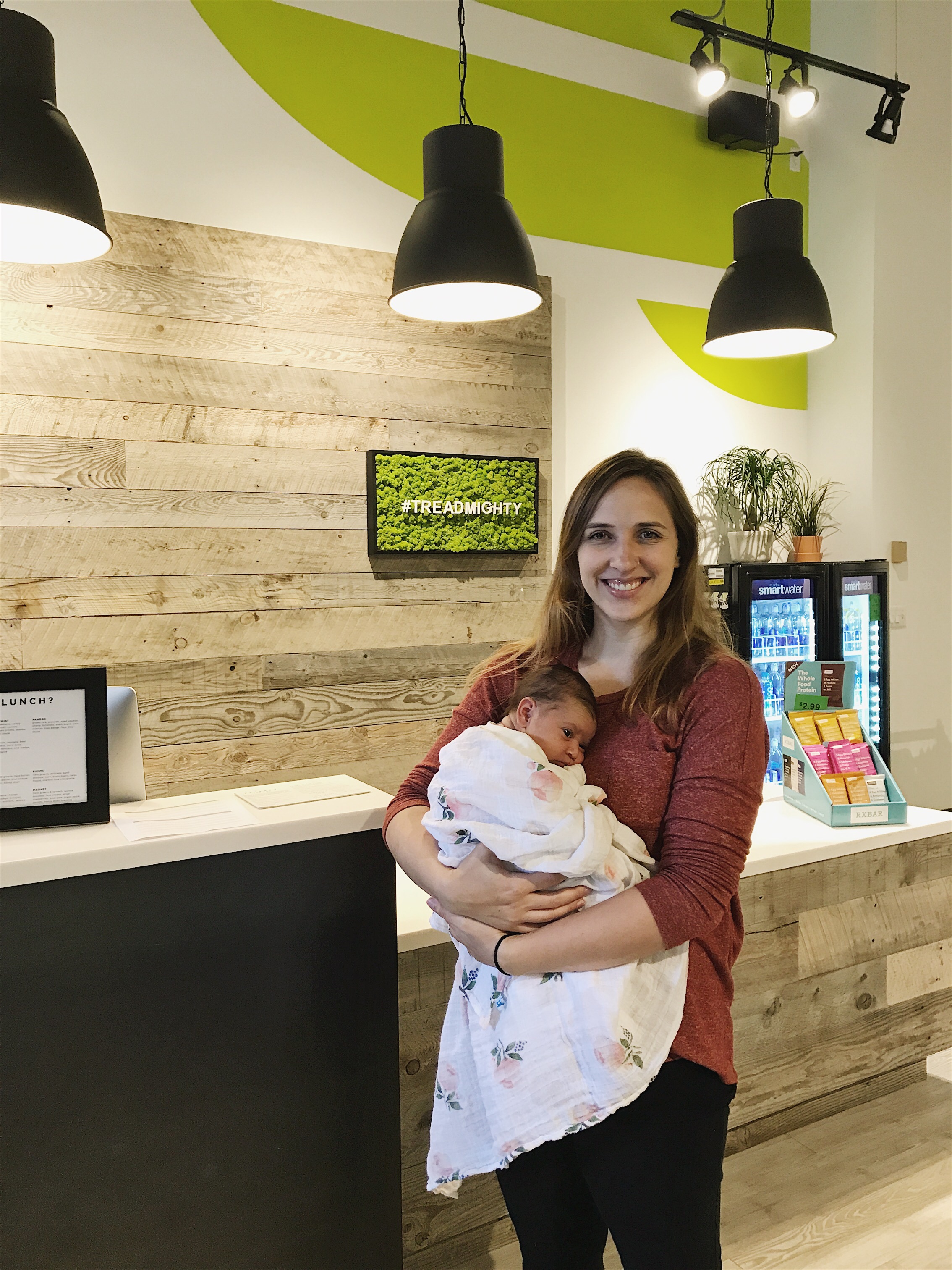 Meet Kayd (rhymes with made). Her Insta profile says that she was born without an indoor voice and for us, we knew that we'd be a match made in heaven. Kayd is our design director which means that she makes sure everything that you see from Fly Feet is super amazing and on brand. From our website, to marketing materials, to space design, this girl has her hands in all of it. And we're so glad. There is SO much to know about this dynamic designer ... here is just a little peek... Oh yeah, and as if everything she creates isn't cool enough - she really outdid herself a couple of weeks ago. She had baby Meru and we think it's her best work yet! Congrats!!
1a. Big news - you just had a BABY GIRL!!!! We are so so happy for you and your beautiful fam. What is your favorite part about being a mom so far?
OMG everything. All I've been able to do so far is stare at her and wonder how on Earth I made that. But I think my actual favorite part is the way my husband takes care of her and me. I knew I had a good guy but do not know how I would have survived these first two weeks without the help and constant laughter. This whole mom thing is going to be a piece of cake with him around.
1b. If you and Abhrajeet had to move to a different country where would you want to raise your family?
Oh no… we'd never move ;) We've been dating since we were 15 and our families live less than one mile from each other. BUT we will be taking many many many more vacations. Gotta get back to India, Amsterdam, Finland, … and then Mars (because that will totally happen in our lifetime!)
1c. Okay last baby question and personally just dying to know - what will baby Meru be for Halloween?
There are SO MANY OPTIONS, I think I might do 13 days of Halloween. Currently thinking about: Gnome, Sprout, Ice Cream Sundae, Chipotle Burrito, Unicorn (obviously), Mermaid… the list just goes on and on!
2. You are our creative branding wizard so what is your favorite thing you've created for Fly Feet so far?
Ev-er-y-thing!!!! Not many projects allow you to put so much emphasis on the daily experience of the users. Kristin and Ben gave me the keys to think bigger, build better and take risks I believed in. When I walk into the studio I see all of you in some pretty *fly* apparel, taking selfies with the feet+wings, and you keep coming back!! That is AMAZING to see.
3. (In imagination station) if you could add a restaurant into our next studio in Wayzata what would it be?
PANCAKES. Anything with Pancakes. (I'm sure there are plenty of Aaron-approved recipes out there). If we added a pancake station I would **volunteer** to open for the 5:30am classes. (did you hear that Kristin and Ben??!!)
4. What was your first job and are you where you thought you'd be however many years later?
When I was 15 I taught dance classes during the summer. At that point I was in competitive dancing and really really (really!) thought I'd be a backup dancer for Britney Spears… so obviously my life got a little off track. To say that I'm pumped for the music-mashups is an understatement.

5. How did Kristin Shane convince you to take on the world of hiit training? And what is your most memorable Fly Feet moment in the studio?
When I first joined the project neither Kristin or I knew what we were getting ourselves into or how Fly Feet would evolve in just 10 short months of being open. But if you know Kristin, her personality is so infectious that I never had to second guess if this was the right project for me.
I have two FFR stories. The first is when we were still testing out workouts two summers ago. I was next to Ben on the treadmill and he was running at 9mph so I thought that I could run at 9mph (up until this point I really hadn't worked out in 5+ years). I died. Seriously died and Aaron was so amazing about my complete and utter failure that I knew I had to get my life back on track and that Fly Feet was the way to do it. The second was last November when I was continuously running at a 5 and then during one class bumped that sucker up to an 8. Jason called me Ocho for the rest of the week.
6. If you could communicate with one species other than humans what would it be and why?
My two pitbulls, for sure! I hope they would find me hilarious because the looks they give me sometimes say otherwise. I'm guessing that Jax would just keep telling me that people are walking on OUR sidewalk and did you see they pooped on OUR grass, and that Pippy would just keep asking for treats.
7. You are also a project queen and another very busy bee in the hive. What is the project that is exciting you the most at this very moment in time? Personal or work related :)
Lots of projects happening this Fall but I'm most excited about Studio #2 in Wayzata. Building out the Minneapolis studio was a gigantic learning curve and a bunch of "fingers-crossed" moments. Luckily for us, all you Fly Feet peeps showed up and continue to give us feedback either on the space, programming, or retail so the decisions we're currently making for Studio #2 feel really good. (whew!!)
 
8. If you had to hire a sidekick (can be anyone or anything) to help with your work who would you hire and why?
Can I hired a personal chef? My schedule is so jammed packed that if I don't consciously think about lunch or dinner I can go hours without eating a thing. Plus, ya know… a personal chef would be amazing, especially if they do the dishes too.
9. If you could relive one moment that has happened in your life so far over and over and over again what moment would it be?
Not a particular day, just a day up at the cabin. Could be a Summer day of floating on the lake, a Spring or Fall day exploring in the woods or a Winter day hanging out by the fire. Seriously, my happy place.